Widgets
GSM's widgets are built, hosted and managed by GSM, providing code snippets with fast page loads worldwide through Akamai's CDN.
Our hosted platform is essentially a collection of widgets (content blocks) that can be delivered as a stand-alone code snippets for your platform (see our Hosted Solutions products).
Our brand ScoresWay.com has been built using our hosted platform and contains all competitions that we offer globally, and can be used to view each type of widget we offer for specific sports and competitions.
As an example, you'll see the various widgets offered for the European Championship in the list below:
Competition Page widgets:
MATCHES
STANDINGS
PLAYERS
SIDELINED
VENUE
ARCHIVE
Match Page widgets:
INFO
GOALS
LINEUPS / SUBSTITUTES
GENERAL GAME STATS
[team] MATCHES
HEAD2HEAD
VENUE
Squad Page widgets:
[team] MATCHES
SQUADS
NEWS
TRANSFERS
TROHPIES
VENUES
Player Page widgets:
PASSPORT
CAREER
TROPHIES
TRANSFERS & LOANS
SIDELINED
[player] MATCHES
There is a range of additional widgets available within other pages and other sports. Custom widgets not yet available can also be built. Our hosted products also communicate together, allowing for stand-alone widgets to link to main iFrame pages, providing a turn-key solution.
While any level of customization can be achieved, many widget builds include:

Product set-up/creation with the competition(s) & content required
Matching colors and fonts
Changing the widget's size and layout
Providing multi-language functionality
Custom styling

Our Products Team can gather specific requirements and provide an itemized development proposal with costs and timeframes. Typical delivery time ranges from 1-3 weeks.

Our support staff is on duty 24/7/365 to help with any issues during integration and after go-live.
Examples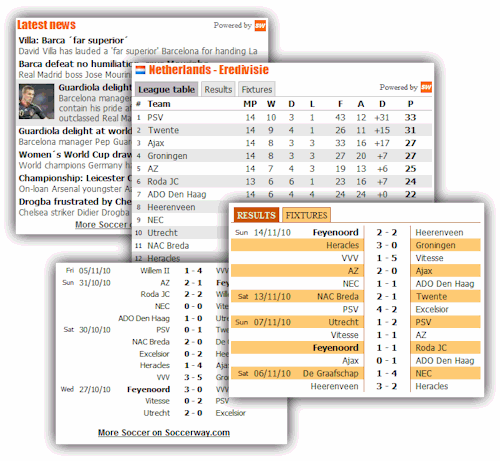 Testimonial
"We use GSM data to power our football fantasy game. Their data is accurate and on time which allows us to trust the content and focus on our core business: managing our games. They also provide outstanding customer service when we have questions. I've really enjoyed having GSM help power our games."
Andrew Wainstein, CEO, fantasyleague.com
Click here to get in touch with one of our sales or support staff